WHAT WE DO
HAIR AT THE ACADEMY is the only one of its kind in the UK. Our salon exists to support children and young adults gain the skills they need to get into paid work and learn a trade that will lead to a rewarding future career. We do not use a one size fits all approach, we celebrate individuality, and develop a training pattern and style that works for each student. We promote inclusion and actively eliminate barriers to learning and participation to give every student the best possible chance to succeed.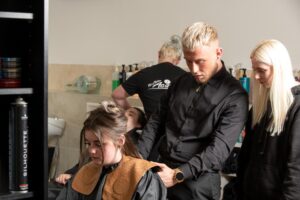 WHO DO WE WORK WITH
We support students from the age of 13 through to adulthood who come from a broad range of backgrounds, circumstances, and experiences. This includes learners who are:
Living with complex learning needs
Living with mental ill health or anxiety issues
Living with a disability
Disengaged with school or college
Vulnerably housed or in the care system
On low income
Seeking asylum
Unemployed
Homeless
"95% of our students go on to further education or paid employment."
OUR APPROACH
We have an experienced team made up of qualified hairdressers and barbers, beauty therapists, support workers, counsellors, and teachers. Our team work together to deliver an integrated training programme that gives students the skills and support they need to move into a number of different roles.
After graduating from THE ACADEMY, students can work as hairdressers, barbers, stylists or beauticians, move into other industries or continue their education. All our hairdressing, barbering, and beauty courses include core learning in Maths, English, and Customer Service. This allows students to get a well-rounded education that will give them the best possible chance to gain future employment.
We also work with The Lions Barber Collective to provide vital Mental Health Training, something that is essential within our industry. It's estimated that hairdressers and barbers spend nearly 2,000 hours a year listening to their clients, so it's crucial, and on occasions, lifesaving for them to know how to support people. We help students understand how to create a safe space for clients to open up, and equip them with skills to signpost people to the right organisations and charities to get the help they need.
WHERE WE WORK
HAIR AT THE ACADEMY is based in the heart of Exeter. We work from a newly refurbished salon that has been designed to have everything students need. Our generous salon is split over two floors with a breakout room and access to outside space for students and the team to take breaks throughout the day. For training purposes, we have multiple backwash basins, hair and beauty rooms for massage and nails, a classroom for Maths, English, and other theory lessons as well as confidential meeting rooms for students to meet with their social worker or our on-site counsellor. Upstairs we have offices, which we rent out to generate funds to support our work.
We would like to say a special thank you to The Incorporation of Weavers, Fullers and Shearmen, a charity dedicated to supporting young disadvantaged people in Devon. It was with their funding and support that we were able to fund the building we work from today, and double our capacity to help more young people than ever before.